This article describes how to upload files into a folder in Geneious Biologics. To learn what file types we support, see this article.

The below video includes a demonstration of uploading files and how to navigate Biologics. The first few videos in our Getting Started series may also be helpful, linked here. 
Jump to:
Uploading Files
Once you have created or selected a folder in the Shared Workspace to which you would like to upload your files, there are two ways in which you can initiate a file upload:
Click on the Upload button (shown highlighted below at the top left of the folder view).  This will bring up a file chooser dialog from which you can select one or more files that you wish to upload.
Click and drag a selection of files or folders from your operating system's file/folder manager (such as Windows Explorer on Windows, or Finder on Mac) or any application that supports drag-out of file/folder selections. Simply drag into the area indicated in the screenshot below to initiate upload.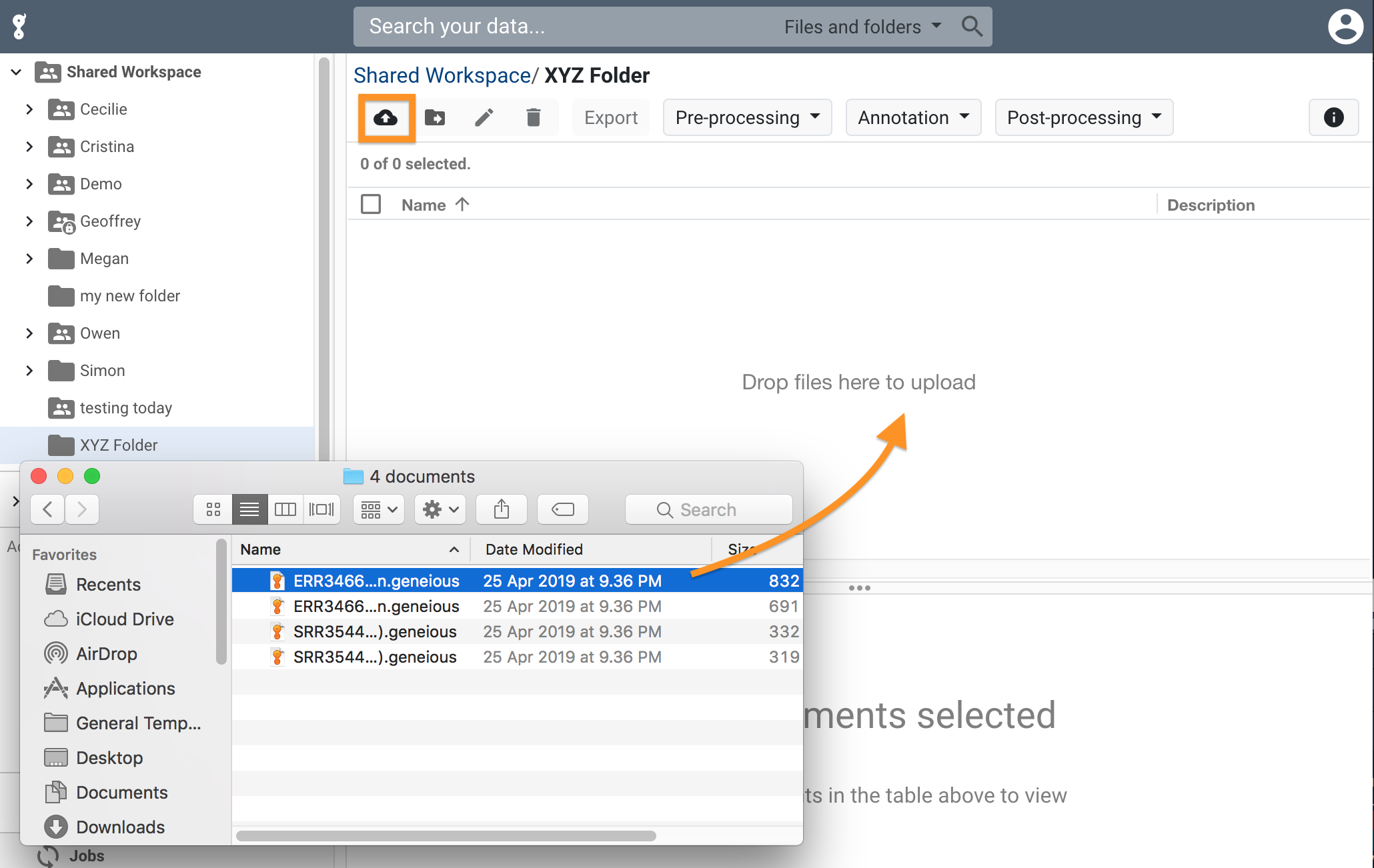 If you drag and drop a folder, it is equivalent to dragging and dropping every file contained within that folder (including sub-folders).


Upload Status Table
Once a file upload has been initiated, you can review the status of your uploads by clicking on Uploads at the bottom left of the navigation pane at the left of the screen (highlighted below).

The Uploads table contains various details of uploads that are both pending, active and completed. Note that each row in the table will correspond to one drag-and-drop or one selection of files from a file chooser dialog, and therefore may contain one or more actual files as a group. The different statuses that an Upload transitions through are as follows:
Queued 

- up to 3 uploads may be actively uploading at any point in time, so any additional uploads that you initiate may be placed in the 

Queued 

status until a slot is free.

Preparing 

- in order to make your uploads as efficient as possible, uploads containing more than one file may (depending on the total size of those files) be compressed in the browser before they are transferred.  If the total size of files being uploaded is too large for local compression, this step will be skipped.

Uploading

 - in this state, an upload is being actively transferred to our servers.

Importing

 - once your upload has been received in its entirety by our servers (when the progress bar reaches 100%), we process the files contained within to convert them to our internal storage format.  This may take seconds, minutes, or even longer, depending on the size of the uploaded files. Importing occurs entirely on our servers, so you do not need to be logged in or even have an internet connection during this step.

Complete 

- this is the final state for uploads that have been successfully imported into Geneious Biologics.  Once this state has been reached, you should be able to see your files as imported documents in the folder view.

Failed 

- if there is any problem importing one or more of the files in an upload, the upload will enter this state, and you will be able to view any details of the errors in the 

Errors

 column. Either mouse over the table cell to see the full text, or select the cell and copy the contents to the clipboard. If any other files in the upload did successfully import, then you will still be able to see and use them in the folder.
Important Notes
Closing your browser or tab or refreshing the page will effectively abort any uploads that have not yet reached the 

Importing 

stage. It is not currently possible to resume an aborted upload (though we aim to support this in future).
Brief interruptions in your internet connection may be tolerated, however we recommend that you use a fast and reliable internet connection when uploading large files.


Uploading csv/excel files
.csv and .xlsx files can be uploaded either as sequences or imported in table format for adding assay data to your sequences.
First, select a folder in the Shared Workspace to which you would like to upload your files. There are two ways in which you can initiate a file upload:
Click on the Upload button (shown highlighted below at the top left of the folder view). This will bring up a file chooser dialog from which you can select the file that you wish to upload.
Click and drag the .csv or .xlsx file from your operating system's file/folder manager (such as Windows Explorer on Windows, or Finder on Mac) or any application that supports drag-out of file/folder selections. Simply drag into the area indicated in the screenshot below to initiate upload.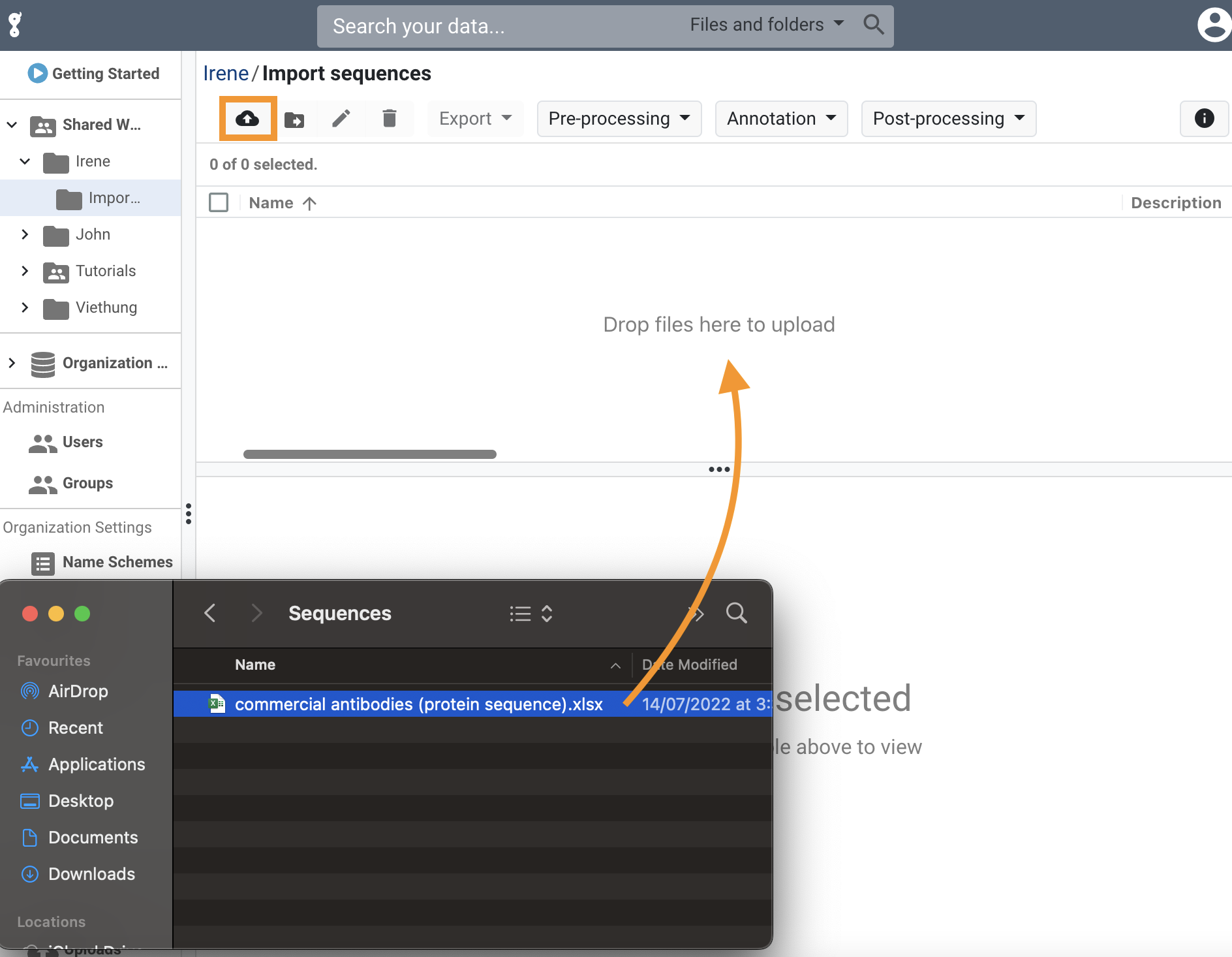 Uploading a .csv or .xlsx file will open a new dialogue box prompting you to choose whether you would like to import the file as a Sequence List or as a Table Document.
If you would like to import as a table for adding assay data, s

elect

 

As Table Document

 and click Run to start the download into your Geneious Biologics folder.

If you want to import the file as a Sequence List, select As Sequence List and click Next, as shown below.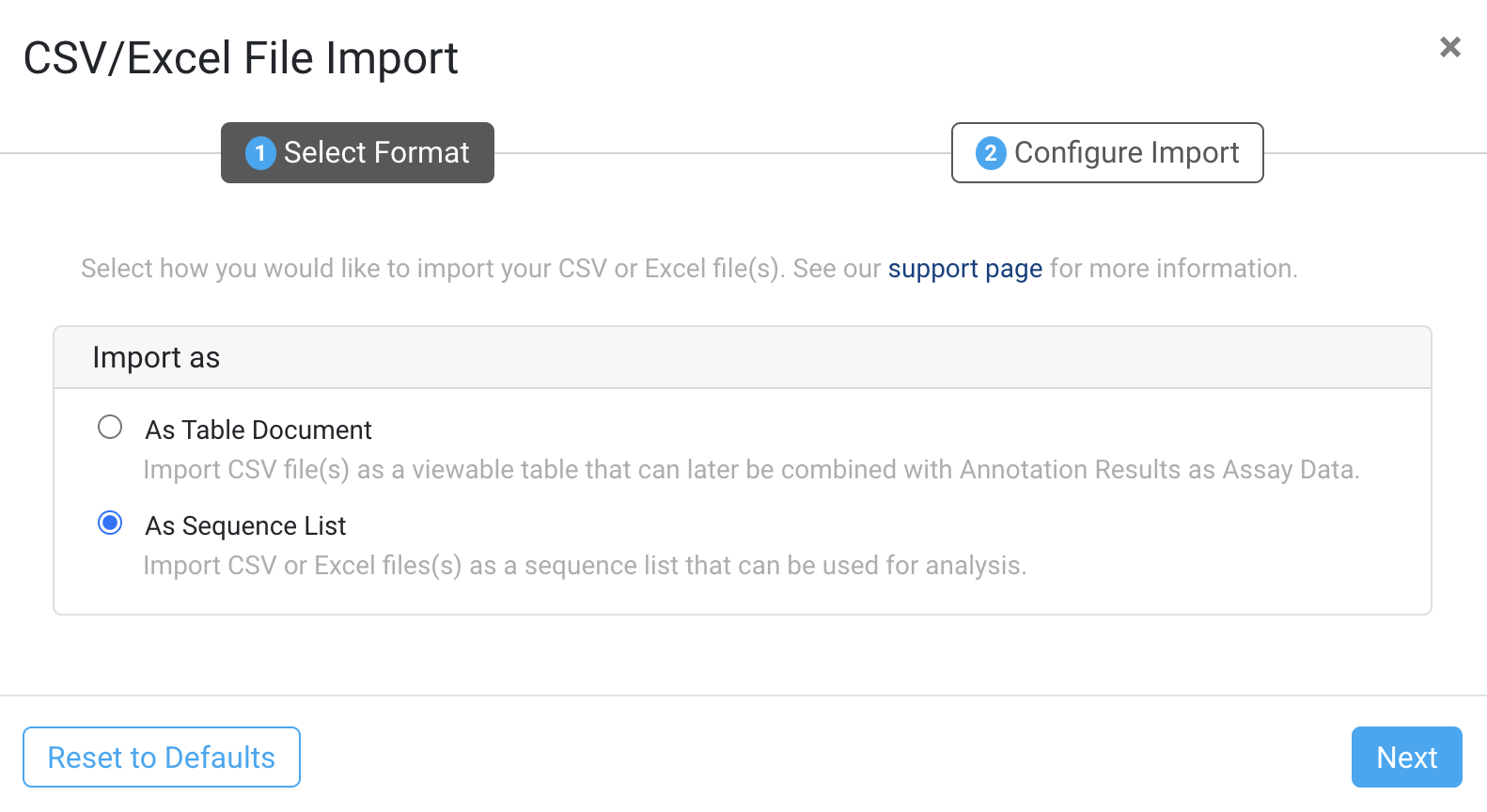 This will then prompt you to select the column pertaining to the Name of your sequences, and column(s) indicating the Heavy Chain and/or the Light Chain. If both a Heavy and Light Chain column are selected, your sequences will be imported as paired Heavy and Light Chains. You will also need to specify whether the sequence is a nucleotide or protein sequence. Click Run to import your sequences.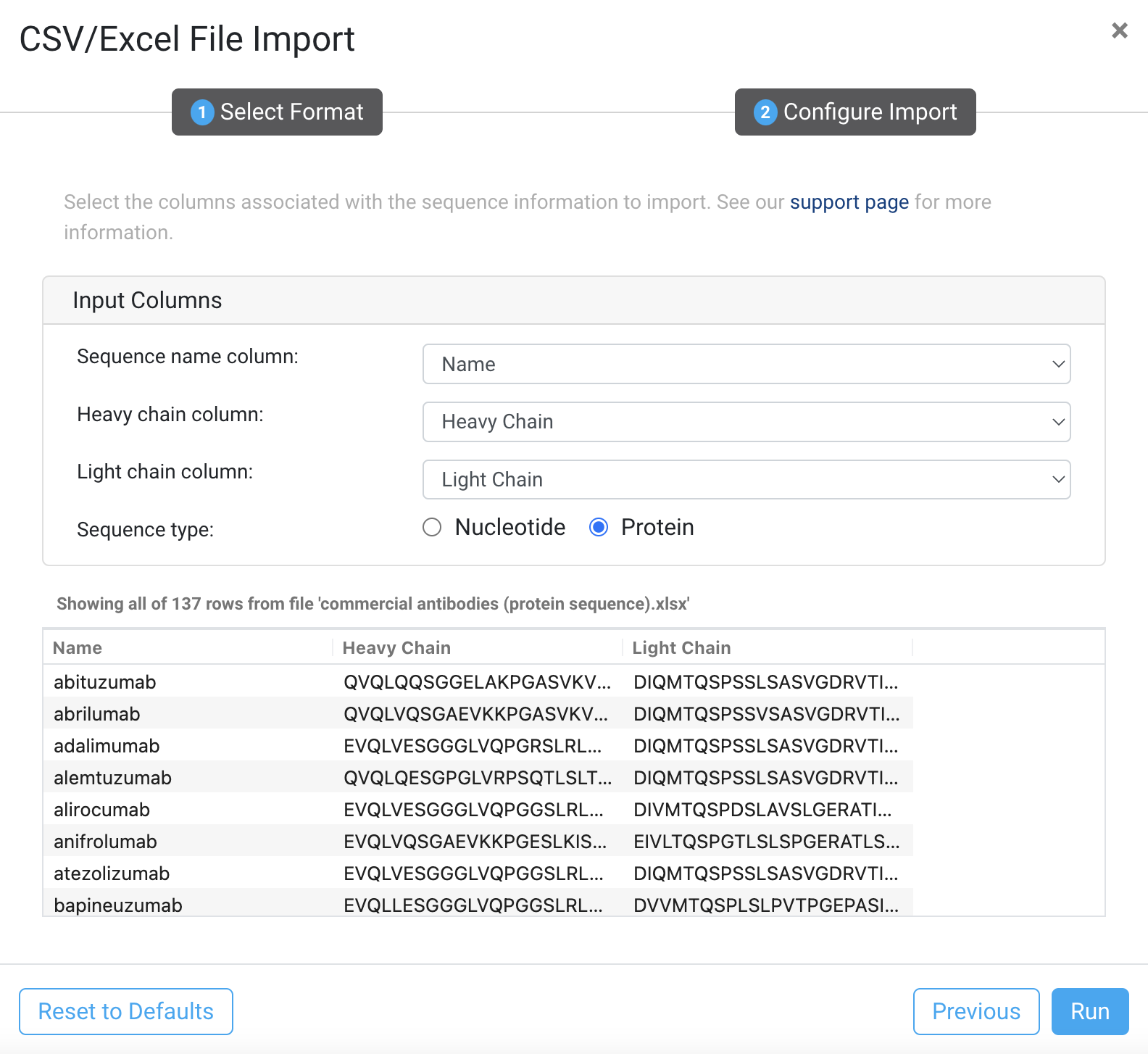 Troubleshooting
Why is my upload so slow?
There are many factors that can influence the speed of your uploads, ranging from the specifications of your computer, to the speed of your internet connection and even other factors outside of your control.  The most common causes of sub-optimal upload speeds are:
Your computer may be busy running other processes (especially those that heavily consume system resources or are also utilizing your network connection).
Your speed may be limited by your computer's network connection or your home or office internet connection. Wireless connections can sometimes be unstable or suffer from poor throughput due to signal quality and interference, so a wired connection is recommended if that is an option.  Many internet connections (such as ADSL) have significantly lower upload speed than download speed, and may even be further throttled by ISPs under certain circumstances, so you may wish to find out what your upper limit is.


How can I test my upload speed?
You can test your upload speed by using a third-party website which uses your web browser to send data directly to a server in the same region where Geneious Biologics is hosted and measures how long it takes. To run the test:
Wait until any in-progress uploads to Geneious Biologics have completed.
Close all tabs in your web browser.
Close any other applications which may be using the network.
Open one of the following links which corresponds to your Geneious Biologics environment location:

If you are unsure where your organization is hosted, please ask your Geneious Biologics administrator. You can also ask us. 

Wait for the tests to complete.
The test results will display what your upload speed was as a box-and-whisker plot. Hover over the box to see a detailed breakdown of the measurements.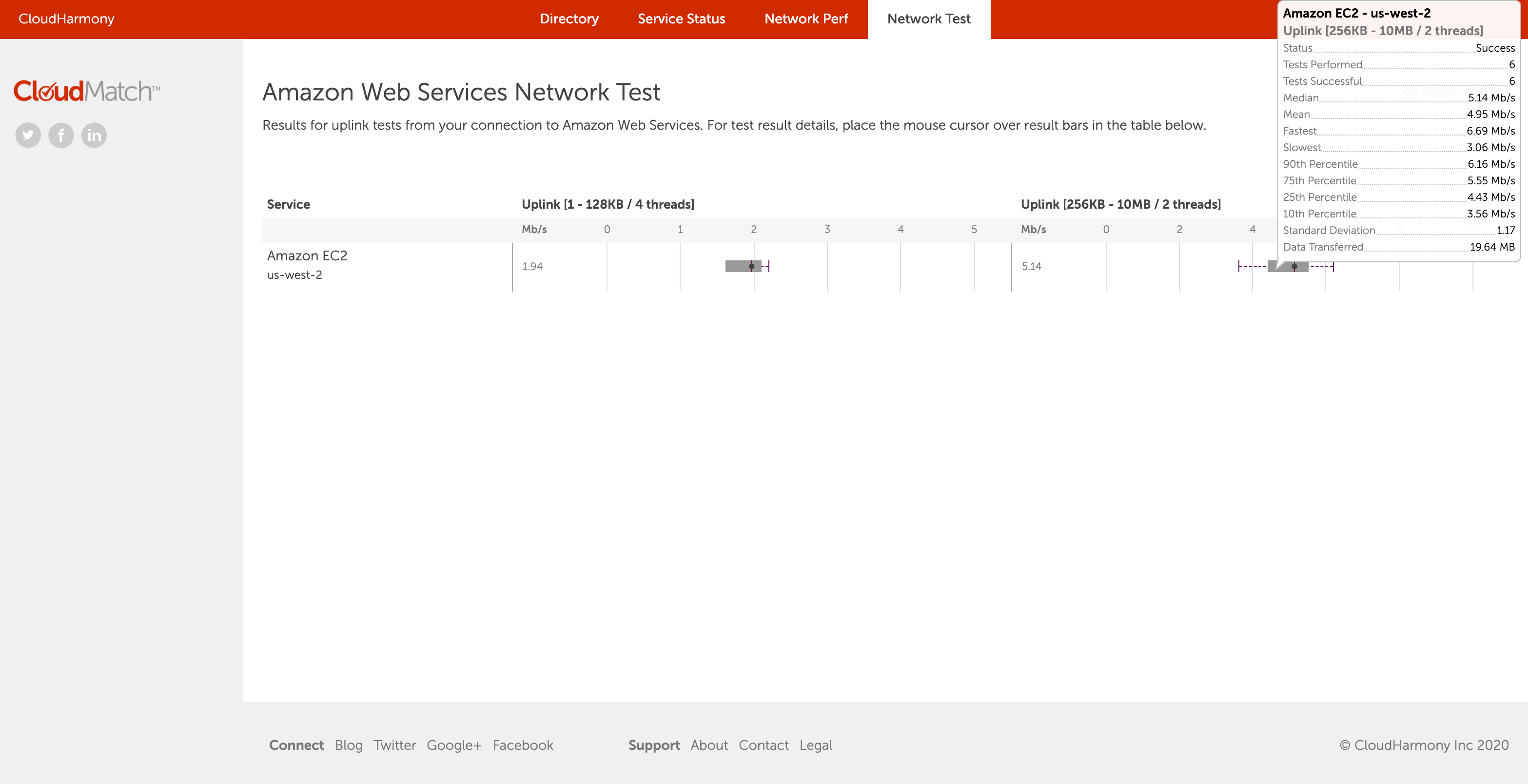 The example above shows a Mean upload speed of 4.95 Mb/s. As with most networks, there were a lot of fluctuations, which is shown by the Standard Deviation of 1.17 Mb/s. The Data Transferred was 19.64 MB. To calculate how long it may have taken to upload a 1 GB file then first convert that to MB (1 GB = 8000 Mb) and then divide by the speed (8000 Mb / 4.96 Mb/s = 1743 s = 29 min).
It is important to note that this test is only a rough indication of the upload speed that you may achieve for the internet connection you are currently using. The speed of uploads to Geneious Biologics may or may not surpass your test results.
If your test results are poor, then you may wish to discuss with your IT/network administrator whether they can be improved. If on the other hand your test results are satisfactory but you believe your uploads to Geneious Biologics are consistently and significantly slower than the rate achieved in the test, then please contact support, preferably attaching a screenshot of your speed test result if possible.


Why has my upload stalled at X%?
This may indicate one of a few possible scenarios:
A loss of connection. If the status still shows as Uploading, then it means we haven't given up on your upload yet, but eventually if connectivity is not restored, your upload may transition to the Failed status, at which point you will need to retry the upload from scratch when you have re-established connectivity.
Poor upload speed. Particularly for large files ( 1 GB), poor upload speed may result in no perceived progress for a noticeable period of time.
Your upload may be stuck on 100% and in the Importing state. See the following question for more information.
One or more files that you selected could potentially be blocked by a browser extension or other security/antivirus software running on your computer or network.  You could try disabling any extensions or features that might interfere with outgoing web traffic to see if that resolves the problem.
If you believe there may be a different issue impeding your uploads, please contact support for further assistance.
In general, uploading hundreds or even thousands of files in a batch is not recommended, as it creates more opportunities for one of the above scenarios to arise.  We recommend that you first zip up large batches into a single zip file and just upload that, which will give your upload the best chance of succeeding.


My upload is stuck at 'Importing'. What's going on?
In order to work with your data, Geneious Biologics must import it into a format that it can operate with more directly.  For low-volume sequencing data (such as Sanger), this is likely to take only a matter of seconds, but for high volume NGS data, it can take an amount of time that is proportional to the total number of sequences - perhaps up to half an hour in extreme cases.
If you notice that an upload is stuck in the Importing state for an especially long time, and that your imported documents do not appear within the folder that you uploaded to, please contact support and provide us with a link to your folder by navigating to the folder and copy-pasting the browser's address bar contents into the support request.


I left my computer uploading and when I came back hours later and logged in again my Upload has failed. Why?
If you are uploading large files, you should ensure that your computer will not be automatically suspended or hibernated while the upload is in progress, and that its network connection will remain uninterrupted for the duration of the Uploading stage.
The upload table contains details about recent uploads, such as whether your file failed during the upload or import stage, and any relevant error messages.


I have multiple subfolders and I would like to keep the same folder structure when I import my files into Biologics. How do I do this?
If you would like to retain your folder structure, you can zip your folder before uploading to Geneious Biologics. Geneious Biologics respects folder structure in zipped files, and it will automatically create any non-empty sub-folders in the Geneious Biologics folder tree to mirror your uploaded folders and files.