An Associate license is ideal for sharing your antibody discovery work with your clients or collaborators, allowing them to access and view results generated in Geneious Biologics. These accounts are separate from your organization's Biologics account, so your partners will only be able to view documents you have chosen to send them.
Read on to learn more about these kinds of accounts, or
contact us
if you'd like to set up an Associate Account for your collaborators/clients.
Jump to:
What functions can be accessed in an Associate Account?
An associate account is designed to allow users to interact with existing annotated results, but not to perform annotations themselves. This means that none of the Pre-processing or Annotation options are available, but users can Upload and View documents, Export sequences and perform Alignments.
Our main articles on these functions are below:
Navigating an Associate Account
This is very similar to a normal Geneious Biologics account, but with some features removed or restricted. Below is the Geneious Biologics video on finding your way around Biologics. Our Video Series on Getting Started in Geneious Biologics may also be useful.
Interacting with a Biologics Annotator Result document
After uploading a Biologics Annotator Result document, users can explore the annotated results within. A Biologics Annotator Result Document is generated by running Antibody Annotator or Single Clone Analysis.
When using an associate account to view an annotation result, the following features can be explored:
The following cannot be performed in an associate account:
Any of the Pre-processing functions like pairing and merging reads etc.


How do I set up an Associate Organization?
Please contact us if you'd like to set up an associate account for your collaborators or clients. We will create an associate account for the organization you have named (with a provided email address) and they will receive an activation email.
If you have just been given access to an Associate Account, the video below explains activating your account for the first time.
You can also view our main article on Accessing Geneious Biologics.


How do I send results to my collaborators/clients?
Annotated results from both Antibody Annotator and Single Clone Analysis can be exported as .geneious type files. Select the Biologics Annotator Result Document you would like to export and click Export > Export Documents:

Make sure that the document is exported as a full Biologics Annotator Result Document: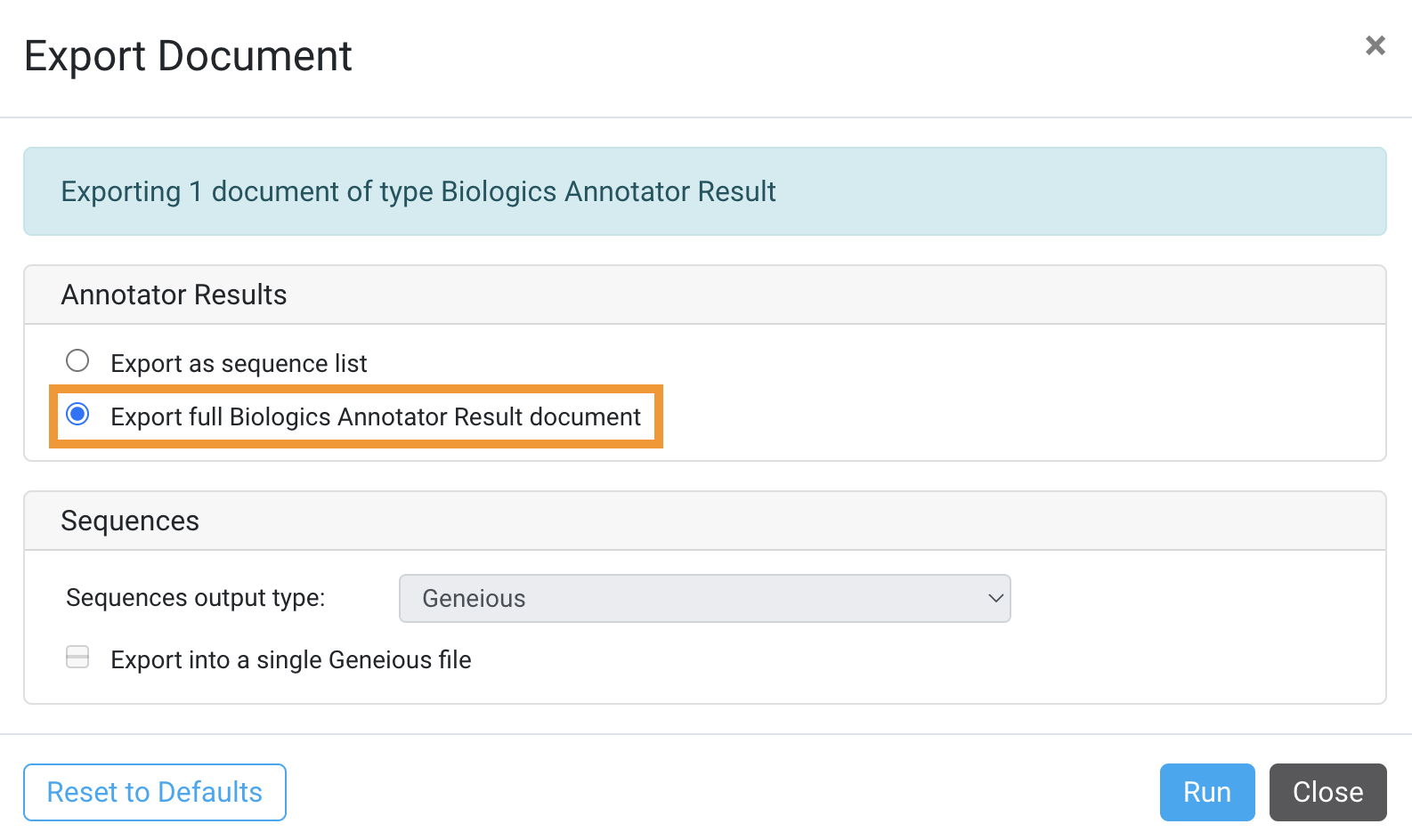 Please let us know if you do not have this option and we will turn on the ability to export Biologics Annotator Result documents for your organization.


I have an Associate Account, can I try the full version?
Yes, you can request a demo and free, fully supported four week trial by contacting us, or you can purchase individual Geneious Biologics user accounts here.