This article compares and contrasts how to analyze the same antibody sequence using Geneious Biologics and IMGT/V-Quest. This might be helpful for users that are unsure of how to find their way around a Biologics annotation result but are familiar with the IMGT/V-Quest output format. We also have a similar article for those who have used IgBLAST.

If you are new to Geneious Biologics, please see our main tutorials and Quick Start Guide for a more comprehensive introduction to using Geneious Biologics:
Jump to:
A Brief Introduction to Geneious Biologics
After logging in, you can see your folder tree on the left and your "workspace" on the right. At the top of your workspace you can see what folder you are in, along with various options like Export, Pre-processing, Annotation and Post-processing. Any documents (sequences, annotation results, alignments) contained in this folder will also be selectable here.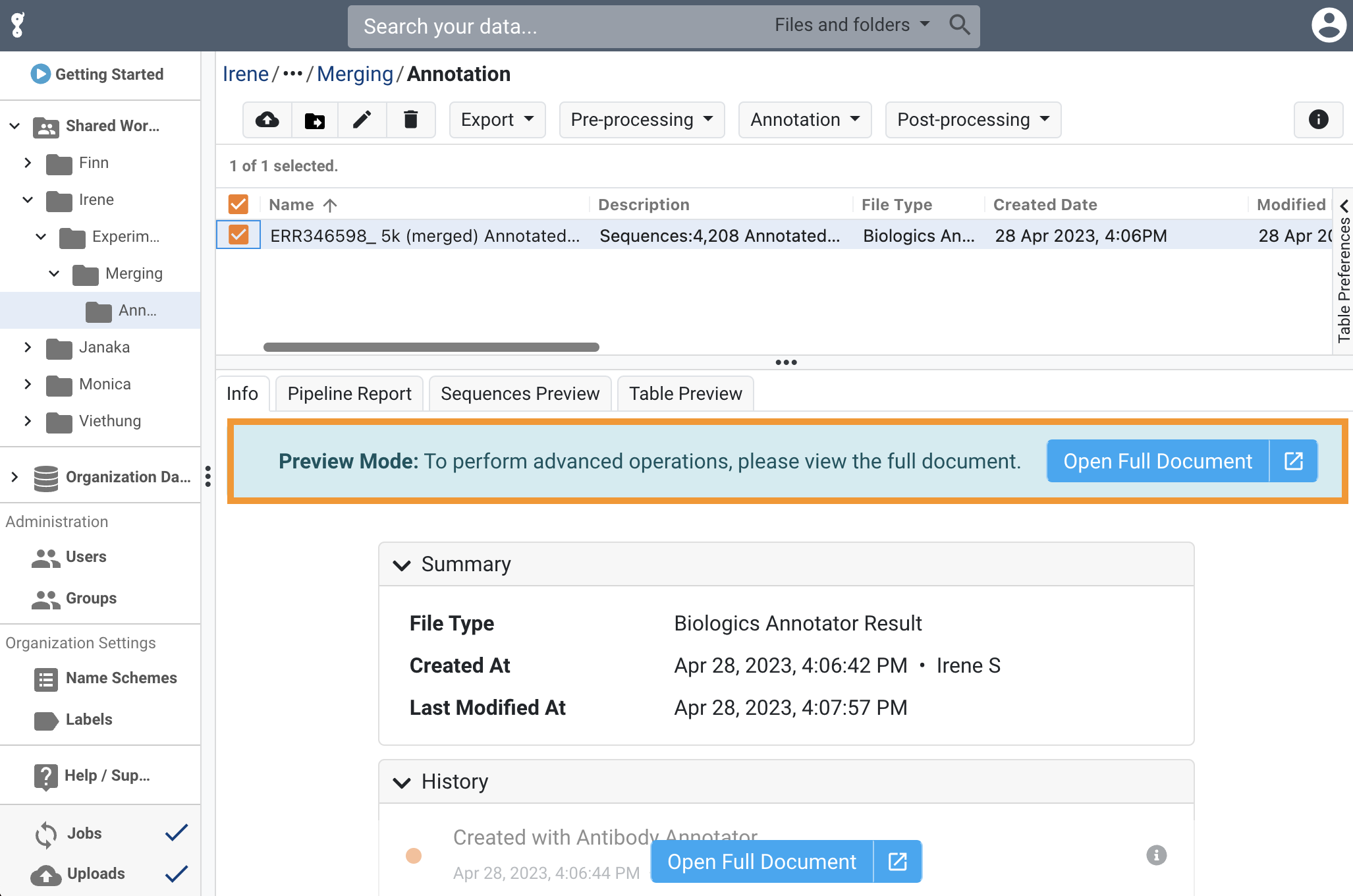 To upload your sequences in Biologics you can use the Upload Button (highlighted in orange below) or drag and drop files straight into a folder: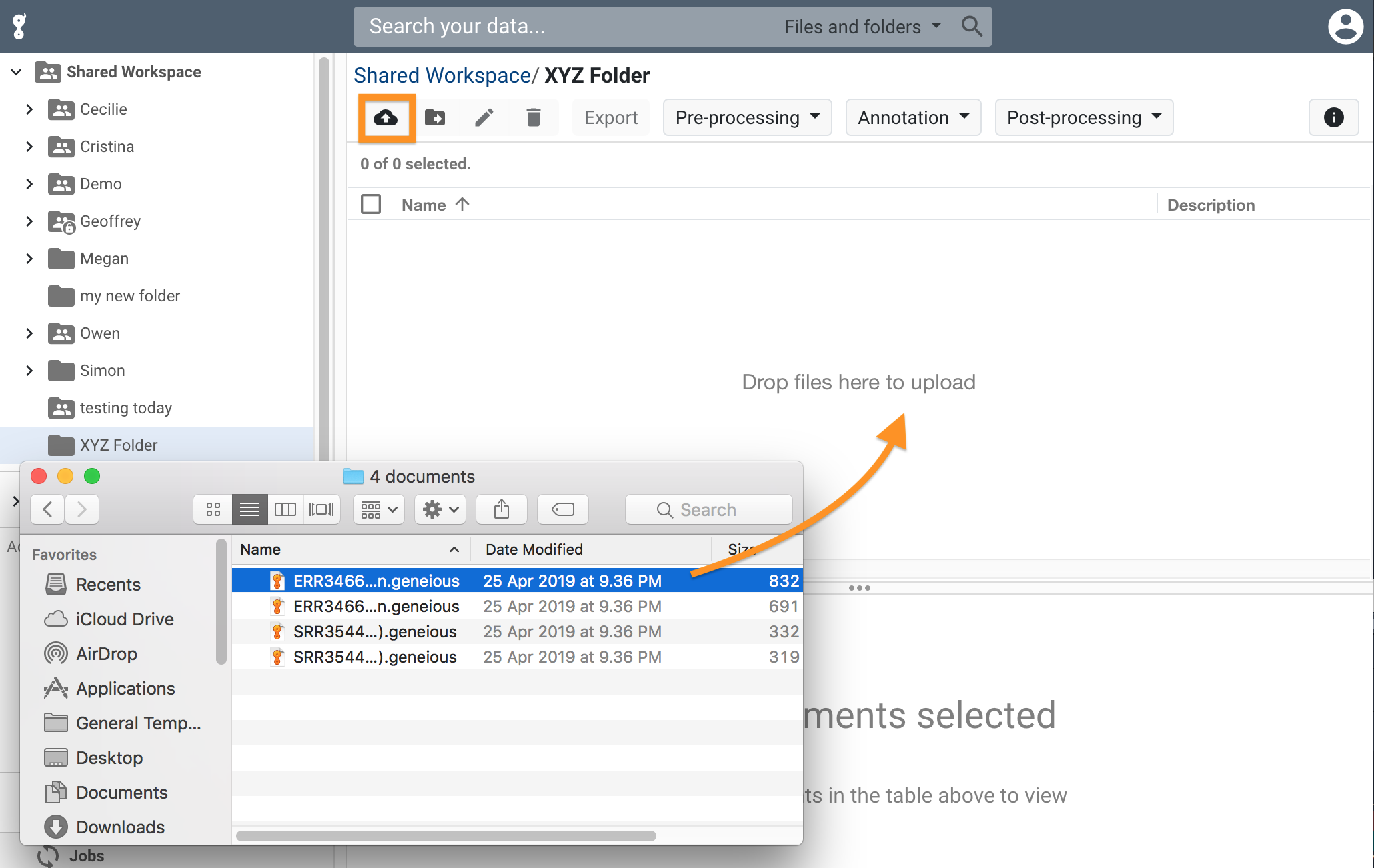 From there you can select Pre-processing options or go straight to Annotation. In this example, a single chain is used for simplicity. If you'd like to know more about our pre-processing options:
Input Sequence & Settings
A single chain is used for simplicity in this comparison. The sequence used is the VH chain of the antibody abituzumab, one of the sequences from the clinical antibodies dataset in Sanger Tutorial 2. Sanger Chain association.
The IMGT/V-Quest result was generated using the default settings available at IMGT. The Biologics result was generated using the default settings of Antibody Annotator, however Annotate germline gene differences, Annotate Numbers and Find liabilities and assets was turned on under the Analysis Options:



Identifying Germline Genes and "Score"
IMGT/V-Quest Results
The following output is produced by IMGT:

According to IMGT, the closest matching germline genes are:
IGHV1-46 with 72.57% identity
IGHD3-16
IGHJ4 with 65.96% identity
IMGT has also determined that the VDJ region is in-frame and that there are no stop codons.


Geneious Biologics Results
You can identify that the chain is fully annotated, in-frame and has no stop codons by looking at the Sequences Table. Biologics also Scores your antibody by identifying any liabilities that may be present in the sequence, such as sites of potential deamidation etc. You can find out more about the metrics used to score antibodies (and how to customize them) here: Antibody Sequence Liabilities.

There are a number of places you can find the closest germline gene matches in Biologics:
Sequence Viewer
The sequences themselves will be annotated with the closest germline gene from your reference database in the Sequence Viewer.
Once you have selected a sequence, you can bring up the Identity% values for each gene match by hovering over the corresponding gene Annotation in the sequence viewer:

Biologics has identified the same closest germline genes as IMGT, apart from the closest D gene which is identified as IGHD3-16 in IgBLAST and IGHD6-19 in Biologics. The D genes are often difficult to identify, as the corresponding region of the antibody undergoes significant rates of somatic hypermutation.


Sequences Table
In the All Sequences Table, the closest germline gene matches are recorded. You can search the table to find these columns. In the image below I've gone to Table Preferences on the right and searched "gene".

This has brought up all the columns which contain "gene" in the name.
I can then jump to a column of interest quickly by hovering over a column in the list, and clicking the box symbol that pops up.

You can also find the overall Identity% for each best-matched gene in the Sequences Table by searching in the Table Preferences sidebar:


The Sequences Table is highly customizable, click here to learn more. For example, you can:
- Toggle columns on and off using the checkboxes
- Re-arrange columns by dragging and dropping them
- Pin columns by right clicking on them in the All Sequences Table
- Save your preferences as "profiles" to quickly access these table settings in other documents


Identifying Germline Mismatches and IMGT Numbering
IMGT/V-Quest Results
The tables below from IMGT display the number of DNA and amino acid mismatches for different regions as compared to the closest-matching germline V gene.



IMGT also displays IMGT numbering and amino acid mismatches: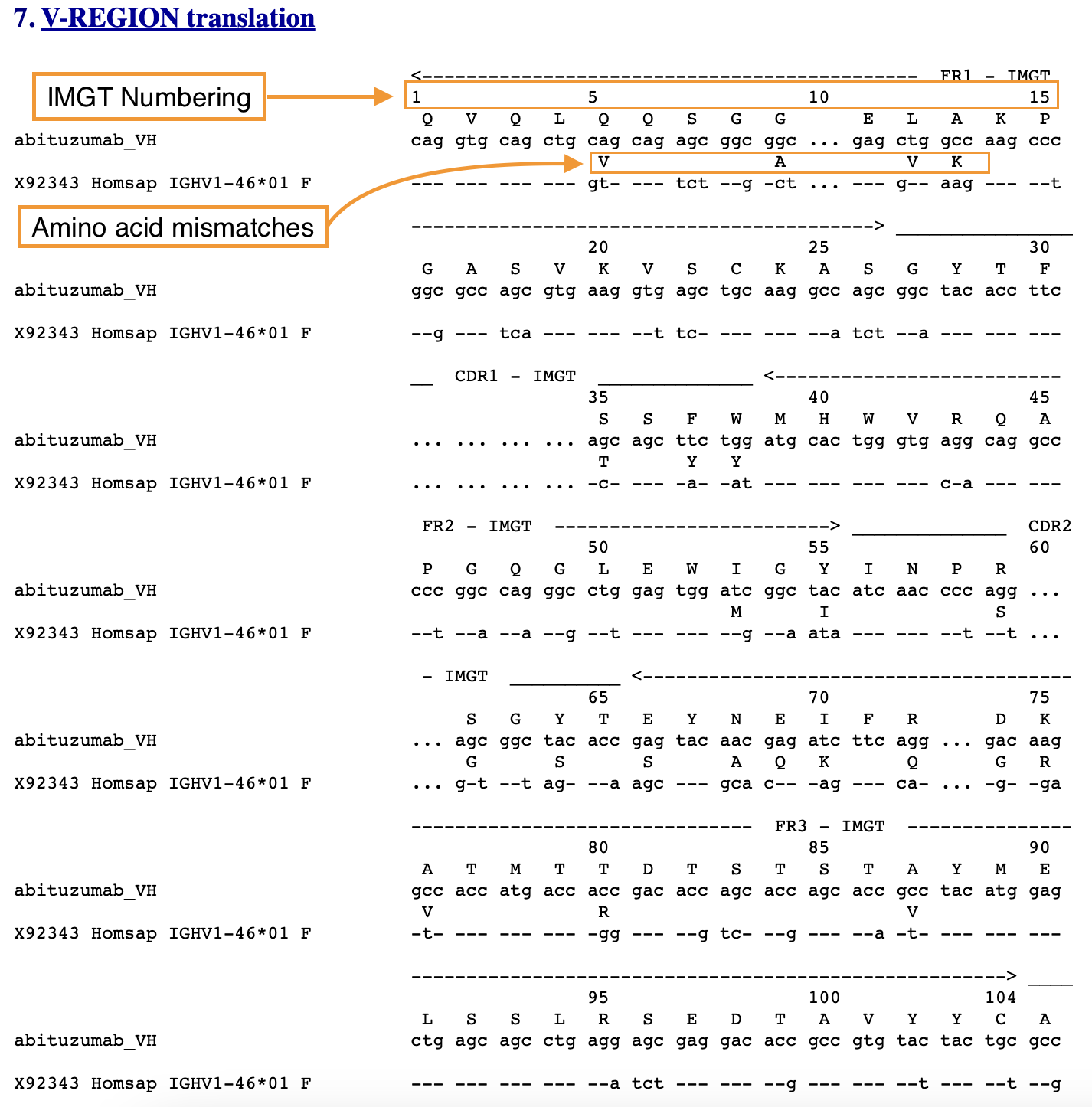 Geneious Biologics Results
There are a number of places you can identify the numbering and the specific germline mismatches in Biologics.
Sequence Viewer
The germline mismatches are found as annotations on the sequence, along with IMGT numbering:

Note: On the image above only the amino acid variants are shown. You can toggle the DNA variant annotation track on and off in the Sequence Viewer Preferences.


Sequences Table
You can easily recreate the IMGT table of mismatches in the CDR and FR regions in Biologics, while also tracking the number of amino acid mismatches.
Using the Table Preferences, I first turned off all columns, then searched CDR and turned on the following columns:


In the HCDR1, there are 5 DNA mismatches and 3 amino acid mismatches. I have also displayed the HGVS present for CDR1.

The Sequences Table is highly customizable, click here to learn more. For example, you can:
- Toggle columns on and off using the checkboxes
- Re-arrange columns by dragging and dropping them
- Pin columns by right clicking on them in the All Sequences Table
- Save your preferences as "profiles" to quickly apply custom table settings in other documents


Unlock deeper insights with Geneious Biologics
Biologics has many other capabilities not mentioned in this article. These are just a few of the other tools you can use for antibody discovery: