Adding assay data
To add assay data into your results table, select a Biologics Annotator Result document in the Files table, click Add assay data and select the assay data document to be imported from your local directory.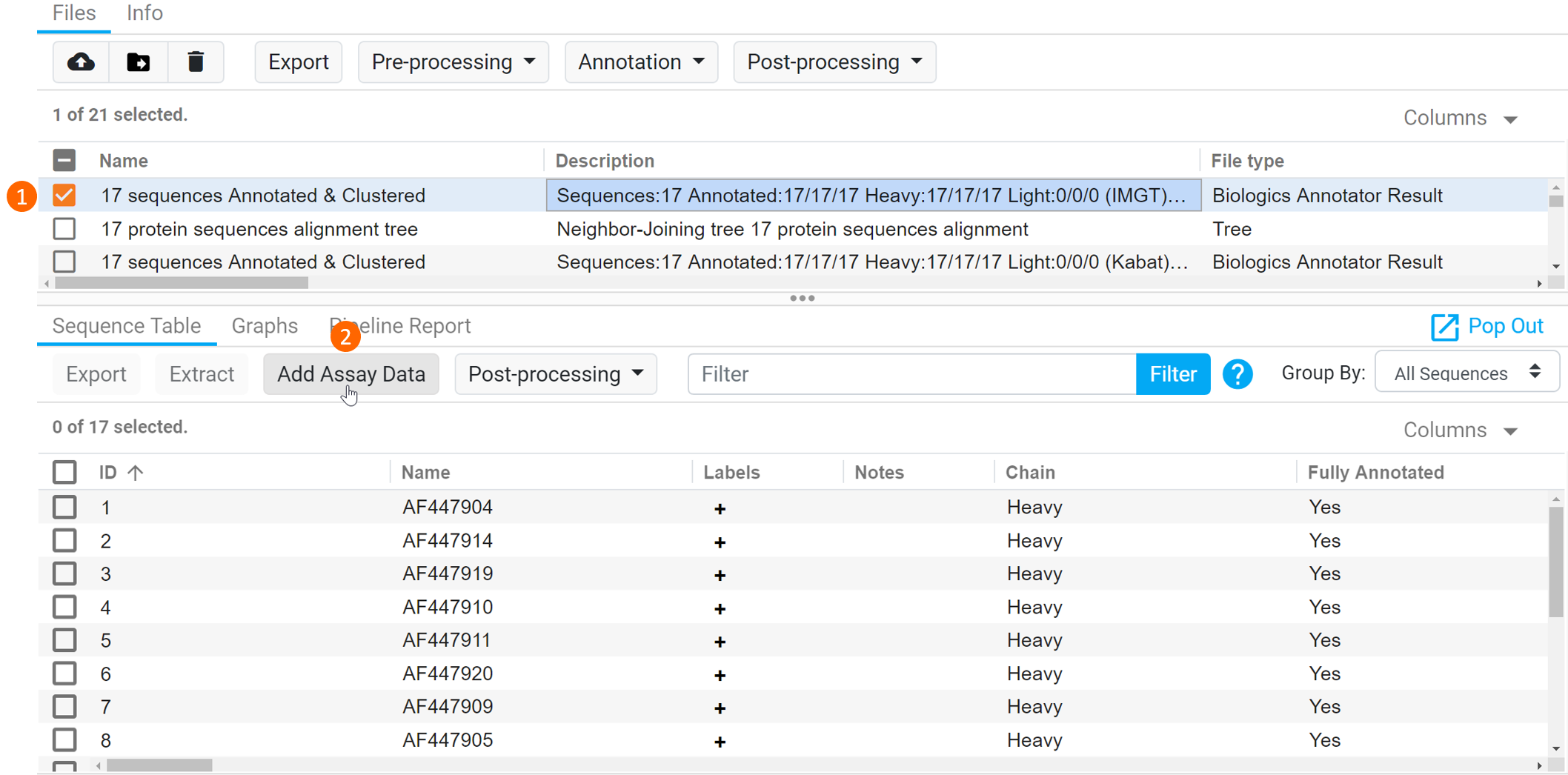 Note that we only support Excel Workbook (*.xlsx). Excel 97-2003 Workbook (*.xls) and CSV (Comma delimited)(*.csv) type files.
To append the assay data into your results document, choose the columns to match the rows by in the dropdown for both the Biologics Annotator Result and assay data documents. In the following example, the rows will be match by the "Name" column header of both 17 sequences Annotated & Clustered (Biologics Annotator Result document) and Llama VHH assay data.xlsx (assay data document).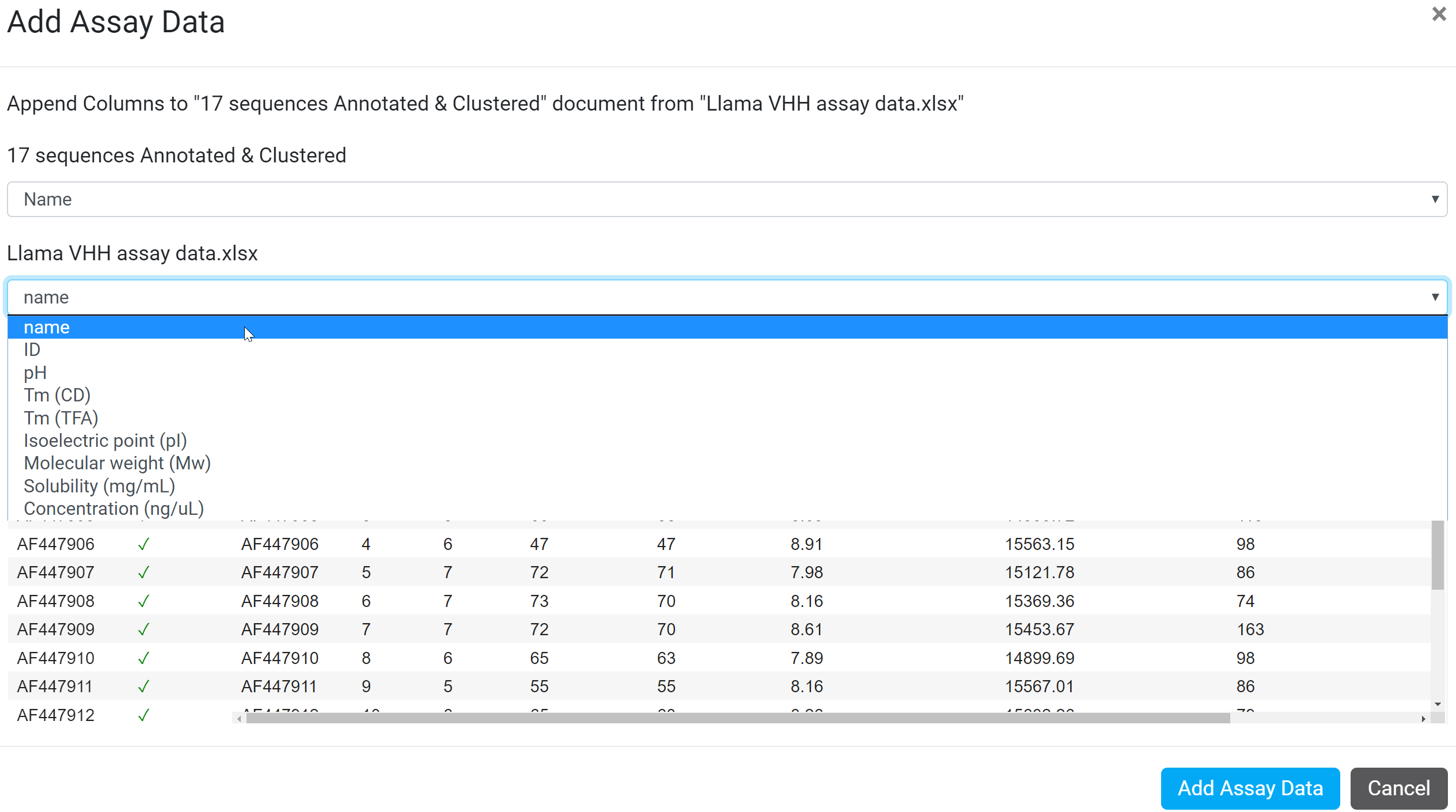 Check the preview to make sure that the rows are matched correctly. To exclude the addition of a selected number of columns from your assay data, deselect the appropriate columns by clicking the check box of the column header. Once the options are set click the Add Assay Data button to add your assay data into the results table.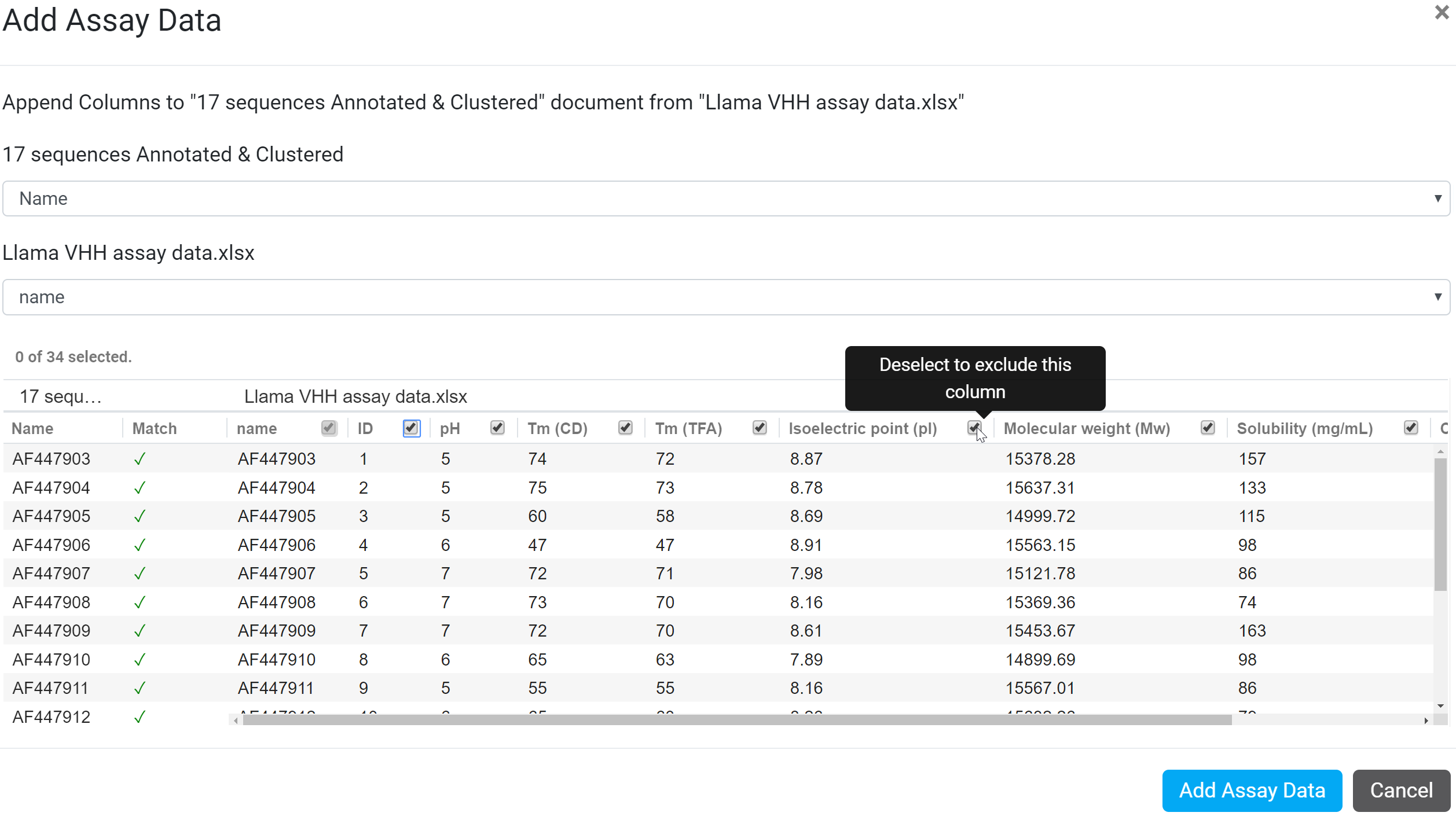 The imported assay data will be appended to right end of the results table. To view the added assay data, scroll the table to the far right and the appended columns will be grouped under the assay data file name column header.
Handy Tip: The Name Schemes feature can be used to extract parts of file names, such as Sample or Well ID into different columns in your result table. These Name Scheme columns can then be used as matching columns to match to a column in your assay data file.
Filtering on added assay data
The Biologics Annotator Result table with added assay data can be filtered using SQL search queries. To filter your results on the added assay data values, specify a query with conditions in the form:
"FileName:Column" comparative operator
Once you have inputted your filter syntax, hit Enter or click the Filter button.
Examples of filtering on assay data values
To search for sequences that meet the condition of having a Solubility level of more than 100 mg/mL, use an SQL filter query in the form:
"310718 Isoelectric and solubility:Solubility (mg/mL)" > 100
In the example below, 310718 Isoelectric and solubility is the File name, Solubility (mg/mL) is the field we are filtering on, > is the operator, and 100 is the value.

Note that single quotes are only used for column type STRING.
To learn more about SQL filtering please refer to the following article.