As a user of Biologics, you can select custom reference sequence databases for use in analyses. The analysis operations that allow or expect a reference database will contain a dropdown listing the reference databases available to you. Only administrator users within your organisation can create custom databases, but everyone in the organisation can use them.
This article deals specifically with creating germline-style reference sequences for Antibody Annotator. It describes how to annotate and package the sequences in the correct format. Please refer to the following article for more information about the different types of reference database, and how to upload correctly formatted sequences into a reference database.
Creating reference databases for Antibody Annotator
Antibody Annotator uses (germline) reference sequences to determine two key aspects of sequence annotation:
The closest matching reference gene(s) to each of your target sequences, and what the silent and non-silent variations in the target sequence are relative to its closest match.
The most appropriate FR/CDR region boundaries, calculated from the whole dataset not just the closest match.
These custom sequences could represent germline genes of the Ig/TCR variable region of one or more species. They could also represent non-germline parent sequences or scaffolds, so long as these sequences are Ig-like in nature and structure. Some amount of sequence ambiguities is tolerated, particularly in the centre of CDR/FR regions.
In order to create a custom reference sequence database, the reference sequences will have to satisfy some requirements to be able to be read by Antibody Annotator. In particular, Antibody Annotator needs to know whether sequences are from heavy or light chains and where Framework/CDR regions are within each sequence to enable their annotation on novel sequences.
Denoting heavy/light chain
Antibody Annotator requires all sequences to be identifiable as heavy or light chain. This can be accomplished in one of the following ways:
Annotating the entirety of each heavy chain sequence with VDJ-region and light chains with VJ-region annotation names (using a CDS annotation type).
Alternatively, each reference sequence should contain an annotation named V-region or J-region or D-region (V_segment, J_segment and D_segment type, respectively) with a gene property starting with the prefix IGH (for heavy chain) or IGL or IGK (for light chain). For example: IGHV1-1*01 or IGL_myGeneName would both work.
In the absence of annotations, then the database name must contain the words Heavy-Chain or Light-Chain to identify the chain of all sequences in the database.
Example
This is an example of a correctly annotated sequence, as seen in Geneious Prime:

The V-region annotation in purple stretches from the start to the end of the sequence.
When we mouse over the V-region annotation, we can see that the type is correctly specified as V_segment and there is a gene property starting with IGH: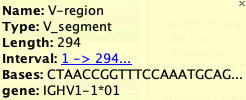 Adding region annotations 
Within each sequence, Antibody Annotator expects Framework and CDR regions to be annotated. Framework annotations should be named FR1-4 and be of type FR while CDR annotations should be named CDR1-3 and be of type CDR. These annotations should be a length that's a multiple of 3 (i.e. can be translated to an amino acid sequence).
Example
This is an example of a correctly annotated FR1 region:

When we mouse over the FR1 annotation, we can see that the type is correctly specified as FR:

Setup Tips
For an example of what a correctly annotated database looks like, you could refer to the Human and Mouse databases already set up by default.
If there is more than one reference sequence per database, these reference sequences must be grouped into a sequence list. To group multiple sequences into a single sequence list, select the sequences and click Group Sequences in the Pre-processing dropdown.
A reference database can contain multiple sequence lists, such as lists with different species or different chains. 
Geneious Prime is a great tool to use for manipulating sequence annotations, and makes creating databases simple.
Please contact support if you require further assistance with setting up your databases. We can also help recommend which database type(s) are most suitable for your purposes.